How to Select Beginner Paddleboards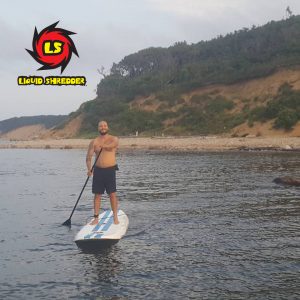 How to Select Beginner Paddleboards can be a challenge.  Choosing one is actually pretty easy.  You must select a paddleboard that provides enough flotation and stability for your weight and balance skill level. Then, you want to make sure it meets the environment and uses you require.  Here we primarily cover open water paddling and exercise such as Yoga, not surfing, uses.  Any good quality SUP board that will float you can also be used in average surf conditions.  See, it is getting easy, right?  If it floats you and you can balance and stand on it…it works.  Now let's tweak that a little.
Look for Maximum Suggested Beginner Weight as a specification.  Liquid Shredder provides this on every board size in the description details. Generally big is easiest, but if you're 90lbs you probably don't want to transport and store a 12ft board. Most specs post a board's Volume.  This is simply the math of how "floaty" it is.  As a beginner, forget it.
Width is important for stability. Narrow boards, less than 29 inches at the wide point are a faster paddle but you sacrifice stability that most beginners need.   The average width for cruising on lakes, rivers, bays, etc are in the 32 in +- range.  If Super Stability is a high priority for you, you'll want to look for a board that is 33-35 inches wide.  The 35 inches wide are most popular for exercises like Paddleboard Yoga
Brand Strength & Warranty.  There are challenges regarding How to Select Beginner Paddleboards. Before you buy, research your supplier and their warranty.  Select your Board maker carefully. The longevity of the company and product depth are key to long term support.  The availability of repair and replacement is contingent on the continued existence of a brand and support of your valuable Paddleboard asset.  Primary indicators of longevity are years in business and depth of product.  Liquid Shredder has been in business for over 20 years before paddleboards entered the market.   We introduced the first written surfboard warranty in the market.  The LS brand encompasses not only Paddleboards.   LS is committed to the entire Board Sports sector.  We make surfboards, bodyboards, skimboards and a full line of water rescue equipment.  Liquid Shredder production includes multiple materials and Patented construction techniques,  We have depth.
Liquid Shredder has a full range of stand up paddleboards, so one is right for you.  Epoxy Fiberglass ABS, Peruvian Handshaped Soft Hybrids, and Soft Foamy
How to Select Beginner Paddleboards is really simple for beginners…buy a paddleboard that will float you and matches your balance skill level.  Pick your board size and price range and we'll see you on the water!