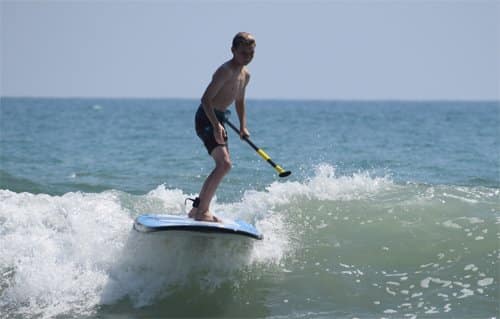 Combining balance, stability, versatility, and ease of use, stand-up paddleboards (SUPs) are the gear of choice when going for a fun and easy ride in any body of water.
Athletes, yogis, and fitness enthusiasts turn to paddleboarding for their full-body workout fix. If you are looking for Yoga Stand Up Paddle Boards we have suggestions:CLICK HERE. Shop for your new stand up paddle boards today!
Whether you are looking to brave white-water rapids, navigate waterfalls, or salute the sun in the middle of a tranquil lake, choose Liquid Shredder SUPs.
We offer a wide variety of paddleboards on sale that fit your needs for all skill levels. Our paddleboards come in a full line of traditional Epoxy Fiberglass SUP and SUPer Armor Epoxy ABS models.
Our SUPer Armor Paddleboards Epoxy ABS SUP boards for sale come in two 10 ft 6 inches and 11 ft 6 inches and are built to withstand the rigors of flatwater touring and advanced surfing, perfect for more experienced paddlers.
Thanks to its ABS Thermoplastic SUPer ARMOR shell, SUPer Armor Paddleboards are less likely to suffer dings and other impact damage.
Pay homage to the history of paddle boarding and surfing on the Peruvian coast with the Caballitos de Totora tribute paddleboard.
The 11-inch or 12-inch custom models are Liquid Shredder's tribute to the "reed ponies" that were used to ride the waves as a fishing craft in South America.
The Tribute Caballitos de Totora is a combination of form and function. You can put it up on display at any venue, or you can fully immerse yourself and turn it into a paddle surfboard.
You can also experience the true meaning of tranquility with the Wide Standup Paddleboard.
This hybrid paddleboard is soft, stable, and wide, which are qualities you need for a great yoga mat.
Measuring at 8 ft 10 inches tall and 35 inches wide, it is also great for catching waves and its stability makes it great for touring.
Introduce your kids to SUP paddleboards with the Kids Stand Up Paddleboards 7ft 5in SUP.
Full outline rail protection, White Liquid Comfort anti-slip deck pad, and Ergo-Carry handle, with a Tri-fin Thruster set make this board perfect for kids and lightweight riders looking to catch and rip some big waves or just starting to get into SUPs.
For the more experienced paddleboarders who want nothing but the most optimum performance from their SUPs and surf paddleboards, try the 9ft SUP Whitewater River Paddleboard, the Performance Stand Up Paddleboard 6ft 10in SUP and the 12ft 6in Race SUP Paddleboard.
The 9ft SUP Whitewater River Paddleboard is the perfect outdoor paddleboard that sports most of Liquid Shredder paddleboards' features and is designed for the river rats in mind. Hybrid soft HD+ Enhanced construction gives the rider confidence to brave white water and extreme conditions.
Its Tri-Fins Thrusters, extra handles, and cargo ties make it perfect for river running, camping, touring, and it is very user-friendly.
Dubbed the "White Lightning", this hybrid SUP is designed to meet the demands of advanced surfers and paddleboarders alike. Its patented advanced aluminum and carbon fiber stringer system makes it strong and lightweight, not to mention fast.
Removable FCS Tri-Fins Thrusters make it compatible with most paddleboards online.
With racing performance at half the price of carbon fiber paddleboards, the 12ft 6in Race SUP Paddleboard has been hailed as the muscle cars of SUPs and is considered one of the best paddleboards online.
Its single fin pointed displacement bow shape makes it perfect for the racing enthusiast.
You can move through the water with good float and minimum resistance with its narrow yet thick template.
Shop for your new stand up paddle boards today