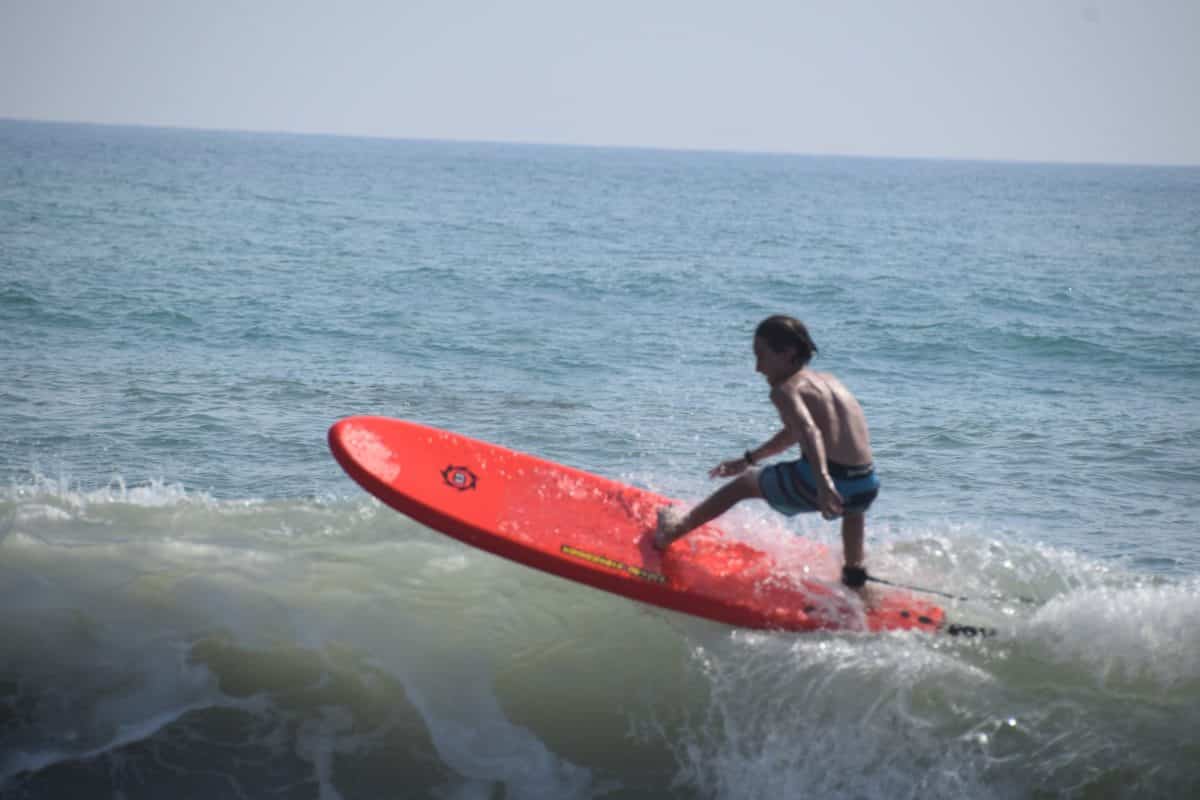 Choose from our EZ Slider Soft Surfboards available in various types and sizes. Depending on your needs, go for our petite 4ft. 11 surfboard, mid-size 6ft., 7ft, 8ft, or 9ft long board. All of these surfboards are buoyant, maneuverable, durable, and of course soft – offering a soft surface for landing. Preferred by both beginners and experienced surfers, our EZ Slider Soft Surfboards are commonly used by surfers as well as surfing schools across the nation.
Choose the Surfboard Size Depending on your Needs
If you're relatively new to surfing, remember a big size board such as a 6ft or larger board will make it easier to catch waves. Of course transporting it around can pose some minor hassles but it's something every beginner has to go through and is well worth the effort!
Selecting the right size surfboard is dependent on the ability of the surfer and their frequency of surfing. New or novice surfers who've only recently been introduced to the sport would find it easier to surf on a large board. And so would surfers who tend to surf only occasionally.
Short surfboards require a certain level of skill and are especially great for skilled or expert surfers who surf on a regular basis. So the general thumb rule to remember when choosing the size is that the level of ease increases as you go up in size.
Our EZ Slider Soft Surfboards Ship Free to USA 48 States
Choose the EZ Slider Soft Surfboard in the size of your choice and enjoy free shipping, available in 48 states across the USA. The EZ-Slider Series foam surfboards boast of a soft foamie (EPE) deck while simultaneously offering a slick, superfast bottom, and wooden stringers for stiffness – a win-win for sure.
Why Opt for Soft Surfboards?
First things first, soft foam surfboards are fun to ride! Plus they offer surfers a plethora of other benefits. With their buoyancy they offer great ease of use. As you paddle through the waters easily, you'll find that it's just as easy to catch waves with our EZ Slider Soft Surfboards. And when you try to stand up, you can do so with more stability and equal ease. They provide everything one hopes for in a surfboard – fun, ease, stability, and maneuverability. At the end of the day, surfing is all about fun, excitement, and enjoyment. So it's no wonder then that all surfers, from beginners to experts, prefer to indulge in the sport with soft surfboards today.
Order our Durable EZ Slider Foam Surfboards Today
Our EZ Slider Foam Surfboards boast of an EPE deck with an EPS core and PP slick bottom. Equipped with a White PP (polypropylene) hard slick bottom, they are soft yet rigid and strong. Their advanced interior support stringers further enhance their toughness and durability. Built to last, these are the toughest soft surfboards you'll ever find on the planet!
Plus their colorful soft EPE (expanded Polyethylene) lends comfort to the surfer while offering protection with its anti slip texture when wet. And it looks just as fabulous as it feels. Take your pick from the best soft top surfboards, available in a wide range of models, from fun boards and long boards to beater boards and swallow tail surfboards. Moreover we offer a 90 day non-commercial use warranty. Check out our soft surfboards and contact us with any questions!