Six Common Beginner Surfing Mistakes
For information on Six Common Beginner Surfing Mistakes CLICK HERE
Liquid Shredder Satisfaction Guarantee Return Policy: 
Nearly 20 years and hundreds of thousands of boards and shipments make us confident that you will be overwhelmingly satisfied by our world-class quality. We back all of our boards, as well as the rest of our products, with a 15-day money back guarantee. If you are not satisfied with your purchase you may return it in its unused, original condition within 15 days of receipt for a full refund (or exchange) less total shipping costs. See details below.
Please see the terms before returning an order:
Returns: Any product may be returned in new, unused condition within 15 days of delivery for a purchase price refund, less any freight, handling charges or costs incurred by SSB. All freight, packing and handling charges (both ways) are the responsibility of the buyer. In the case of "Special", "Discounted" or "Free" shipping offers, the buyer is responsible for All Shipping and Handling Costs incurred by SSI outgoing, plus the return shipping and any additional incurred costs. Products in new condition but with opened retail packaging can be returned minus all freight/handling and a 30% restocking fee. Used product or product not in new condition may not be returned. "New" condition is a product that requires no repacking, cleaning, etc. Final decision as to the "New" condition of a return is determined by SSI staff and is final. To obtain a Return Authorization (RMA), email: info@liquidshredder.com detailing order number and reason for return. Items may not be returned without RMA code. Products returned without approval code cannot be accepted. Used Products may not be returned.
See Full: Purchase Agreement and Warranty Terms
Acceptance of these terms is a part of your Online Order "Clickwrap Agreement" process.
How long does it take to get my order?
We make every effort to ship orders within 24 working hours of receipt. Online orders generally process a lot faster than phone. As an example if you order Monday we ship Tuesday. If you order Friday, we ship Monday. Holidays are the same and skipped. Most surfboard and parts usually ship via FedEx Ground and normally takes 7-10 days depending on your distance. SUPs ship via truck due to size, this can take a little longer. Remember to add a day for order processing. On-line orders receive automated tracking information via e-mail from FedEx at time of pickup so you can keep up with shipping progress.
You will get Tracking Information when your Liquid Shredder product ships to the e-mail address you provided at order. If you don't see it CHECK YOUR SPAM FOLDER!
What are the types of Board construction made by Liquid Shredder?
Liquid Shredder makes boards via five (5) different types of construction and materials:
Patented Peruvian Hybrid Soft: The Original Liquid Shredders… "Made in Peru Where Surfing & SUPing Were Invented!" These unique "soft" hybrid boards have a Patented aircraft grade vinyl skin and a Patented Dual Aluminum Stringer System, now reinforced with Carbon Fiber. Liquid Shredder uses this Patented skin technology in all of our Hybrid Peruvian Surfboards, SUP Paddleboards, Skimboards and Bodyboards. All of the Hybrid Peruvian boards are tested in the some of the harshest conditions and largest surf in the world, the Pacific Coast of Peru. Then, boards are submitted for demo and competition at Surf, SUP and Bodyboard Contests in the USA & Peru. No model goes unpunished before it is released to the public. Each board style and shape is developed by our design Teams in both Peru and the USA. A true International effort by Carlos and Matias Echecopar of Peru and Scott McClain, Rick Varonfakis and Rick "Ironman" Anson of the USA. We're so confident in this technology, these boards carry a 1 Year Warranty. See it Here!
EZ-Slider Soft Top SurfBoards: The Liquid Shredder EZ-Sliders are heat laminated boards. Liquid Shredder's USA Technical Staff, headed by founder, Scott McClain designs each EZ-Slider Surfboard, SUP Paddleboard, Bodyboard and Skimboard to exacting specifications. Drawing on several lifetimes of watersports experience the USA Team not only designs but established a rigorous quality assurance program for each category of board. The EZ-Slider surfboard line sports fin seals that help reduce water intrusion, a minimum of two waterproofed wooden stringers and a third fiberglass in 8ft & 9ft models. From 2016 forward all FSE bodyboards are made with high denisty Expanded Polypropylene cores, EPE soft deck, HDPE slick bottom and Fiberglass stringer. Our EZ-Slider SUP Paddleboard has EPS Core, HDPE slick bottom, dual water proofed wood stringer, Plus, two layers of Fiberglass under the soft deck with a Gore-tex pressure venting system.
Epoxy/Fiberglass: Liquid Shredde's Inca Series Epoxy Fiberglass boards are made to the same exacting desings, shpaes and quality as the rest of the line. All facets are managed and controlled by the USA Team of lifelong watermen. Each Epoxy/Fiberglass SUP and Surfboard has two (2) layers of 6oz glass plus reinforcement of the rails, nose and tail. Every Epoxy SUP has a full Shred-Comfort deck pad and the automatic Gore-Tex air pressure equalization system made famous on the original Peruvian Hybrids. All Liquid Shredder Epoxy/Fiberglass SUPs and Surfboards are equipped with various configurations of industry standard "FCS Compatible" fin systems.
Rotomold Plastic/EPS foam: Made in the USA! Our 12ft Shred-HD is made like a plastic kayak but with and EPS foam core. The deck and bottom are both flat, unlike hollow plastic , so called, SUPs. The fin is a standard, removable 8″ longboard style in a universal fin box. The full Shred-Comfort deck pad is full anti-slip. It uses the famous Gore-tex venting system to equalize pressure.
Inflatable SUPs: Are constructed using military grade materials that are designed to withstand a lot of abuse. Unlike traditional rigid fiberglass or epoxy paddle boards, that are susceptible to dings, cracks, and other damage, inflatables are ding-resistant and virtually indestructible. They deflate for easy transportation and are softer if they bump into you or if you fall on them. Traditional SUPs provide higher performance than inflatables.
What do I need to consider before I buy a Surf or SUP Board?
No matter where you buy your Liquid Shredder at a Surf Shop, Paddle Board Dealer, Online, New or Used you can always get Original Equipment Liquid Shredder Parts.
How long has the board maker been in business?
Many companies sell Boards as a commodity. They may be in the Surf and SUP watersports market as a test run. If they leave the market, you're left without support or warranty.
Is the Board designed by people who actually use them?
Nearly anyone can design something that looks like a Surf or SUP Board. But, the nuances of materials and design make the difference between a quality, durable board and a junker that performs like a "boat anchor".
BEFORE YOU CONSIDER ANY Board BRAND…ask if they stock spare parts like fins, screws and repair kits. Fins and screws can get lost or broken, boards can be damaged. Most parts are generally NOT INTERCHANGEABLE BETWEEN BRANDS. We get e-mails and phone calls daily from folks who purchased boards and can't get replacement fins, or repair a hole making their board useless. We Stock Parts for Liquid Shredder boards ONLY. Liquid Shredder Riders can always get replacement parts, accessories and repair kits.
My fin screws are Too Short or Hard to Turn before the fin gets tight. What's Wrong?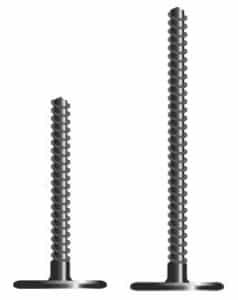 If the screws got dumped out or removed…you'll need to put them back in the right holes. Keep in mind the longer screws go in the thickest part of the board.
If your screws are too long for the position on the board, don't force them, they' may break off.
If your screws are too short for the position they are in they won't grab the fin and hold it in. They just spin.
Screws can be cut to make them shorter BUT… make certain you don't cut off the long ones just to get them into a shallow hole. You won't have screws long enough for the deep holes if you cut when they are just in the wrong place.
Do I wax my Foam Special Edition FSE soft surfboard or SUP?
As a general rule, Foam Deck boards don't need wax. But, during the first few uses the new finish of the deck can be slippery. It is a good idea to wax the deck, at least the first few session you use it.
Do I wax my Peruvian Hybrid Soft Liquid Shredder surfboard?
Your Peruvian Hybrid Liquid Shredder is slick and smooth like Epoxy/Fiberglass. It needs anti slip deck treatment so you don't slip off. You have 2 options:
In order to keep yourself from slipping you should use standard surfboard wax. It is available at most surf shops for about a buck ($1.00). Old, dirty wax can be removed easily by placing the board in the sun for a few minutes to warm and melt the wax. Then, you simply wipe it away with a few paper towels. NEVER wax the Silver Air Vent Disk area. Wax will clog it and prevent it from breathing.
You can also purchase the Official Anti-Skid Deck Kit on the "Accessories" page. The deck kit only covers part of the board so you still use wax.
As a note, all SUP Paddleboards by Liquid Shredder are standard with the Highest Quality EVA Anti-Slip Deck Pad. There is no need to wax them. In High performance surf uses, a padded tail Stomp Pad can be useful.
Why is there some air under the skin of my Peruvian Hybrid Liquid Shredder?
The Patented Aircraft Vinyl skin of your Peruvian Liquid Shredder is not laminated or glued to the foam board blank, the air in it can expand a little from heat. Each Liquid Shredder Hybrid Peruvian board made since 2013 has an automatic vent system (see graphic at right). You can also vent out this hot expanded air by removing the water drain screw at the tail of your board. This helps keep it light and long lasting. Because the skin is not laminated it cannot delaminate and fall apart like many of the old technology Sponge or Foamie type boards. Plus, it looks just like a fiberglass board only softer.
Our Patented manufacturing process shrinks the Aircraft Quality Vinyl skin tightly over the board's closed cell foam blank shape without glue or any lamination process. This allows the skin and internal foam to move and expand separately and not tear or de-laminate. When unlike plastics, like EPS foam and PE deck and bottom materials used in traditional "sponge" or "foamie" soft boards, are glued or heat laminated they expand at different rates in the heat of the sun. This difference in expansion rates can cause de-lamination and tearing of materials in the older technology "sponge" boards, shortening their life. Plus, Liquid Shredder's vinyl skin looks just like fiberglass only softer and stronger. You will never have to pay $80 for a ding repair if you own a Liquid Shredder ®.
I already Surf or SUP. Why would I want a Liquid Shredder Peruvian "Soft" Board?
Liquid Shredder Peruvian Hybrid "Soft Boards" are fully Competition Tested and Proven Winners. All Peruvian Models have WON Surf or SUP competitions. This includes Element, HD and Suntech Surfboards Plus all of the Hybrid SUP board Series. If you're all about Performance, check out our "Suntech" Models. The shapes, rails and rocker of a Liquid Shredder "Suntech" Series are just like the best, custom Epoxy/Fiberglass Surf and SUP Boards. The weight of Liquid Shredder ® is nearly identical to the same length and shape standard board. This is the ONLY soft boards that look and perform just like a "real" fiberglass board. It has a smooth shiny surface on both the deck and the bottom. Carrying it down the beach or in the water no one can tell you're on a soft board. When you buy a Liquid Shredder ® you may fine that you never need an overpriced glass or even Carbon Fiber board. Liquid Shredder can save you hundreds or even thousands of dollars over time. Liquid Shredder ® ROCKS!
Why is a Patented Peruvian Liquid Shredder the Best Choice Surf or SUP Board?
Liquid Shredder: Providing Quality Boards Since 1999
First, It's a real, hand shaped and hand crafted Surf or SUP Board but with a softer surface to make it more user friendly. Plus, it looks just like a beautiful, new, shiny fiberglass board. Most "soft" boards are very poorly shaped. This effects the way they perform in the water, they bog down, making them slow and hard to turn. Surfing and SUPing are ALL about speed, maneuvering and turning. Poorly shaped boards simply won't turn or perform very well. Once you own a Peruvian Hybrid soft board, you may never want to buy Epoxy/Fiberglass or even Carbon Fiber boards.
Second, Liquid Shredder advanced Peruvian Boards have a Patented Dual Aluminum stringer system. Old style wood stringers are heavy, can water log, rot and break. Surf and SUP Boards should be rigid and not flex too much. Cheap prices "Foamie" or "sponge" boards have no stingers at all and flop up and down in the middle as the rider walks on them. They have too much flex. This slows the board and makes for an unstable platform for the rider to stand on. Additionally, cheap boards with no stringer or weak stringers break easily. Even the most expensive Epoxy/Fiberglass and Carbon Fiber boards don't have Aluminum Stringers…they can't…We Patented them!
Third, Until Liquid Shredder ® entered the market in 1999, "soft" boards were very expensive. In fact, they cost as much as custom fiberglass boards with $400-$1000 retail prices. Liquid Shredder ® hit the market with a Superior Patented Board Series for less money. So now you can get a Liquid Shredder ® beginner board that looks and performs like a custom fiberglass board with the added safety of being soft and priced right. When you buy a Liquid Shredder you may find that you never need an overpriced glass board saving you hundreds or even thousands of dollars over time.
Fourth, Liquid Shredder ® offers more models and sizes so you can select the right Boards for your needs and skill level. Our Standard Boards are wide and easy to surf and catch waves for the most inexperienced of riders. Our Suntech Series is designed for Pro Surfers, SUP paddlers or Athletic Beginners with experience in similar board sports like skateboarding and snowboarding. It is faster and more "rad" than the Standard models. Our Suntech Series is Winning or holding its own in Surf and SUP Competitions!
Fifth, All Peruvian Liquid Shredders are Competition Proven. Liquid Shredder Peruvian Hybrids have won in Surf and SUP Contests, beating the Big Name, custom made fiberglass boards.
What Model and Size Liquid Shredder ® Surfboard do I need?
There are so many Liquid Shredder ®surf board lengths and Models to choose from, there is one designed to fit almost any riders needs and athletic ability.
Remember surfboards are just like clothes…you can still use them if they are too big, but, too small is totally useless. For some useful information on Surf Board size choices CLICK HERE
Matching rider weight, skill level and wave size are very important. As a point of fact, a longer and wider surfboard is always easier to "ride" but can be impossible to "surf".
True "Surfing" is turning and maneuvering on waves. If the rider's mass is too low in relation to the board they cannot turn it. How "buoyant" the surfboard will be is determined by its size and displacement volume. A surfboard which is too small won't float the rider and is difficult to control and may be impossible to ride. A surfboard which is too large will not turn easily and will not be a fun ride. Also, Remember, kids grow, so always keep this fact in mind if your buying a surfboard for a child.
First, we provide a suggested Novice rider weight information online for each model. This helps match your skill level & weight to a board. Its not a guarantee of success but a good rule of thumb.
If you have limited or no experience in a similar sport like Skateboarding or Snowboarding then add 20 pounds (for "not very athletic" beginners, double that to 40lbs or even 50lbs) to your actual weight and buy the corresponding board size. Example: I weigh 120lbs but have never Skateboarded or anything similar but I'm very athletic with great coordination and balance. My effective weight is 140lbs so I could buy a 6'4 but because that is the top of the 6'4 board's suggested maximum weight I'd be better off with a 7'5. Also, I live on the US East Coast. The waves are generally small here and a bigger board is easier for the wave to push…so the larger 7'5″ board is my best choice.
If you are Athletic, are a Snowboarder, Skateboarder or some sport similar to surfing you might consider the Peruvian boards with FCS compatible fin systems. These surfboards are a more advanced and higher performance than our Element. It turns and rips just like a hand shaped Radical glass board but with reduced risk of injury and lower price of a Liquid Shredder®. After riding a FCS equpped surfboard you may find that you never need to move up to a glass board saving you hundreds of dollars in the long run.
There is no particular surfboard that will be perfect for you on all types of waves or conditions. Many surfers build a quiver of different boards of all shapes and sizes.
The statements herein relating to board size choices are abstract and are general guidelines only. We have never seen the rider nor have we evaluated their athletic abilities, so we cannot make the final determination. Surf lessons with a good instructor will best define the size board you are comfortable riding. Keep in mind, used boards cannot be returned. See: Terms & Conditions for details.
Do all Liquid Shredder Boards, Parts and Accessories have a Warranty?
Liquid Shredder Warranty is the Best on the Water!
A. Patented Peruvian Hybrid Surf, SUPs, Body & Skim Boards: 1 Year Warranty
B. Rotomold Plastic/EPS foam SUPs: 1 Year Hull Warranty
C. Epoxy/Fiberglass: 90 Day Warranty
D. EZ-Slider & FSE Models Surfboards, SUPs, Body & Skim Boards: 90 Day Warranty
E. Inflatable SUPs: 90 Day Warranty
F. Parts & Accessories, All Models: 90 Day Warranty
See Full Warranty, Purchase Terms and Conditions
Acceptance of these terms is required to Pay and Place your Online Order. This is a Clickwrap and Orders cannot process without agreement.