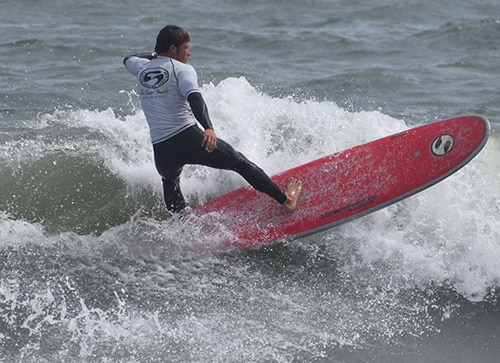 Liquid Shredder Suntech Performance Peruvian Soft Hybrid Surfboards are the Advanced Generation of LS Softboards. Liquid Shredder's hybrid surfboards are a combination of a high-performance shortboard with the attributes of a fish or fun shape surfboard. They are designed to give you the best of both worlds and create an unmatched surfing experience. Since hybrid surfboards are wider, they provide more stability, speed, and volume for a more enjoyable and exciting surf day.
With a focus on more performance, Liquid Shredder offers a full quiver of highly refined shapes, sizes, and templates that are available to suit every surf condition and rider's requirements. Whether the waves are small, average, or big, all Peruvian surfboards are versatile enough to keep you in the water and maximize your surfing time. Every Suntech performance surfboard model features. Syntho-composite vinyl rail, DAS Aluminum stringer system, FCS compatible fin boxes, and fins.
All board designs are the work of lifelong watermen and shapers who have designed these boards to keep performance levels up. Each Suntech Peruvian Soft Hybrid Surfboard is hand-shaped in our factory in Peru by trained craftsmen and then tested in the Pacific Coast of Peru in some of the best surf in the world. So don't hold yourself back and take your surfing session to a whole new level with the Peruvian Soft Hybrid Surfboard.
Suntech, Competition Proven in 2015: ESA NE Regionals, Kara Borzillo took 1st Place Womens Shortboard.   ESA Easterns, Suntech made it to the finals Legends Shortboard, 3rd Place Legends Longboard & 4th Place Womens Longboard.  Rick Anson Won "Ironman"   CLICK HERE for Discount Codes.
Suntech Hybrid Softboards Soft Surfboards
Hybrid high-performance surfboards with advanced patented materials and FCS compatible fin system
Manufacturer:
Soft Surfboards
Model:
Suntech Softboards
Product ID:
Suntech Hybrid Soft Surfboards