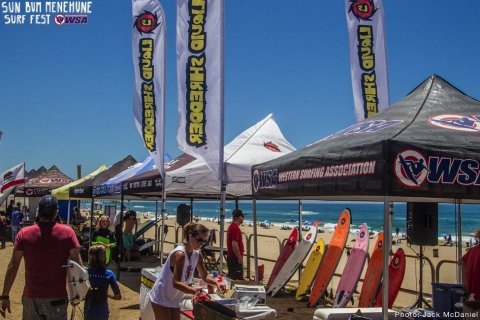 LS in the News Announces Sponsorship of the Western Surfing Association
Posted: August 26, 2016 2:54 PM
LS in the News Western Surfing Association is pleased to announce its partnership with the Liquid Shredder for the 2016/2017 Championship Tour Series.
Liquid Shredder produces a complete line of Soft Surfboards, Standup Paddleboards, Body Boards, Skim Boards, Rescue Boards and Accessories for water sports enthusiasts of all ability levels. Liquid Shredder is the ONLY soft surfboard available that not only looks but also performs like a "real" fiberglass board making it the perfect Soft Surfboard for the whole family.
Liquid Shredder will be providing Free Demo Boards at each of the nine 2016/2017 annual Western Surfing Association Championship Tour events up and down the California coast culminating in the final event of the season the West Coast Championships. Having just participated in the 2015/2016 WSA West Coast Championships, May 14 & 15, at Church Beach, San Onofre State Beach. Liquid Shredder awarded Soft Surfboards to the Most Improved U18 Boy and Girl at the Western Surfing Association West Coast Championships for 2016 and 2017. In addition at the July 10, 2016 Menehune Surf Fest at Goldenwest Street in Huntington Beach Liquid Shredder ran a separate open Liquid Shredder Division with the boys and girls winners each taking home a Liquid Shredder Soft Surfboard.
"WSA is all about professionally run, fun, fair, family oriented surf competitions with the emphasis on fun and family," said WSA Director, Mary Lou Drummy. "Liquid Shredder is a perfect match for WSA and having them at the beach demonstrating their full line of boards brings more "between heat" fun for our competitors!"
"We are excited about partnering with the Western Surfing Association to actively promote the sport of surfing," said Liquid Shredder's director of West Coast operations, Rick Varonfakis. The WSA is dedicated to promoting and preserving the sport of surfing through fun, family oriented surf competitions. Since beginning business 17 years ago it's been important for Liquid Shredder to support families introducing their kids to the sport of surfing. These families have put their trust in Liquid Shredder to provide a fun, safe and meaningful introduction to surfing for their kids. This sponsorship of the Western Surfing Association gives Liquid Shredder the opportunity to continue that support and provide a little in between competition fun for the competitors and their families.
About Liquid Shredder
Since their inception in 1999 Liquid Shredder has been a leader in the development of Soft Surfboards. Years of research and development, product testing, and multiple patents insures innovative design, performance and quality for years to come. For more information on Liquid Shredder go towww.liquidshredder.com(link is external)
About Western Surfing Association
The Western Surfing Association (WSA) is the oldest amateur surfing association in the USA and, by far, the largest on the West Coast. The WSA, established in 1961, is a California non-profit corporation dedicated to promoting and preserving the sport of surfing through professionally run, well organized, fun, family oriented surf competitions. WSA is an official West Coast member organization of Surfing America. WSA members can earn entry in the Surfing America Prime, Surfing America USA Championships and Team Trials. For more information on WSA go to www.surfwsa.org
http://www.shop-eat-surf.com/content/liquid-shredder-announces-sponsorship-of-the-western-surfing-association