Learn to Surf for Beginners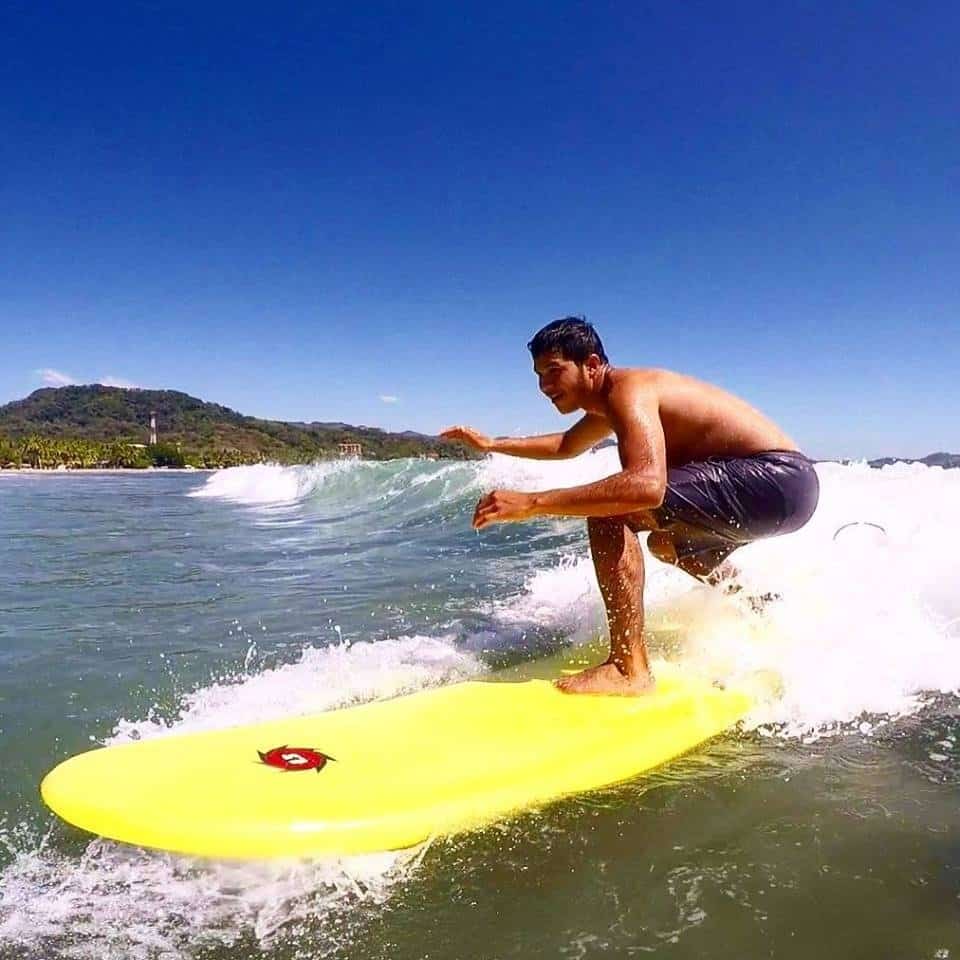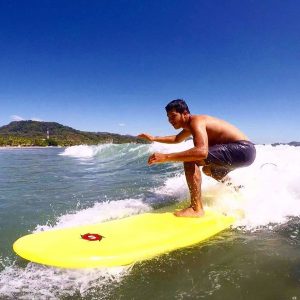 What you need to know is covered in Learn to Surf for Beginners. As a thrilling outdoor sport, surfing has been practiced for thousands of years. Invented in Peru and refined in Hawaii into its modern form. It is a popular recreational activity due to its advantages and has a quick learning curve, affordable, involves the entire body, and one can surf on any coastline with some waves.  Additionally, almost anyone can be a surfer despite his or her age. Learn to Surf for Beginners will help you navigate these stormy waters and prevent you from being tagged as one of those kook surfers.
Surfing cannot get any simpler, just you, the waves, and the surfboard. As a newbie surfer, you will be delighted to learn that even your first ride will not require much effort. However, it is important to get ready by learning a few things before you paddle out for the first time. If you are spirited enough, you can learn how to surf within a day, but do not expect this to be an effortless undertaking.
Click Here for Beginner Surfboard Models!
Part-time or full-time Surfers?
Surfing is something that lots of folks attempt on vacation, shelling out some cash to rent a board and give it a try at a beach location. so, why should I take surf lessons? Anyone who's actually tried surfing knows that it's a serious, total-body workout. Surfing is not a leisurely beach activity. It's a challenge and can be a thrill.  You get to do it from the water while taking in the view of the beach. As an added bonus, surfers always just always seem so hip, cool and bad…who doesn't want to be that?
As tempting as surfing may be, the idea of just jumping on board is intimidating if you're a first-time rider. The Team Members at Liquid Shredder have given a few surfing lessons over the years.   It seems the students never really knew what to expect beforehand. Some had questions that they wished someone could have answered before they ventured into the waves.
Why should I take surf lessons?
Learning to Surf is a very challenging and enjoyable process. Once you catch your first wave, that's it, you'll be hooked! Awareness of the learning curve helps you prepare your attitude and expectations. Surfing is one of the most difficult and complex sports in the world. No two waves are the same, so the "court" is constantly changing. External forces like wind, tides, and swells are affecting the waves you surf differently all the time.   Choosing the right surfboard will make or break the experience. It's not about having the "coolest model". It's about having the correct length, volume, and rocker. The volume is the measurement of how much flotation the board has. It's a function of length, width and thickness. So, when you start surfing, you want lots of flotational volume. Choose a board that is wide, thick, long, and with a flat rocker.  This choice will help determine your level of surfing success.  For more information on Beginner Surfboards and Surfboard Sizes: CLICK HERE!
The following tips can help you get started as a good surfer:
Count 10 Paddles
Learn to surf for beginners defines Paddling as the most tasking part of surfing that highly determines your surfing success. Aim at developing thrust before the wave sweeps beneath you and allow it to project you in a standing position. By timing your start, ensure that you make a minimum of 10 robust paddles before you meet the peak of the wave. Use fluid, long strokes as you grab the water underneath your board. Ensure your hands are cupped and your forearms are perpendicular to the board. Consider using short small strokes to align your board along the wave's face. Always keep your head upright and flush your board with the waterline. Make sure the board's nose does not go under or push water while you are paddling.
Use the Wave as Trampoline
Let the energy of the wave sweeping beneath you thrust you into a standing position. Since you are just starting, ensure you begin by practicing on the beach. You can draw your surfboard's outline in the sand, and take a prone position to get off the ground applying an equal force of your feet and hands. For a regular-footed surfer, the left foot should stand just behind the board's nose, and vice versa for a goofy-footed surfer. In a smooth and quick manner, do five sets, each of 20 reps. When you train on dry land, you will be able to improve your balance and speed.
Move to the Center
Position your feet at the centerline of the board and straddle it with your foot arches. Ensure your toes point directly toward the side of your surfboard, and your feet are at least a shoulder-width apart.
Learn to Corner at a High Speed!
When you begin moving down the wave, you will be able to feel the bottom dropping out. Immediately, thrust your weight forward to gain enough turning speed. As you arrive at the wave's lower part, step on the tail to make the weight in the nose lighter and then turn towards the wave. When initiating the turn, ensuring your front leg remains straight. When finishing your turn, ensure your back leg remains straight while the front lid is slightly bent.
Master the Duck Diving Techniques
When you are about 8 feet from an approaching wave, hold your surfboard by both sides exert pressure onto your knees. To gain a boost as you rise, thrust your weight forward and kick one of your legs with your knee is bent at 90 degrees. To slide under the whitecaps unscathed, force your board's nose down so that it can slide under the wave.
Additional Learn to Surf for Beginners Resources
We hope, Learn to Surf for Beginners has helped educate you on your path forward into becoming a successful surfer.
Click Here For Huge Discounts on Beginner Surfboards!
It is important after you have a few lessons and get dial into the general shape, size and volume beginner surfboard you need to buy "that" surfboard.  Kids surfboards are going to be smaller than adult beginner surfboards. If you buy a beginner surfboard that's too small, you'll likely never be able to ride it.  Don't make the common mistake of purchasing one you think is cool, or a "rad" shape.  Go with what you know! You'll have tons of fun, with the right equipment for you.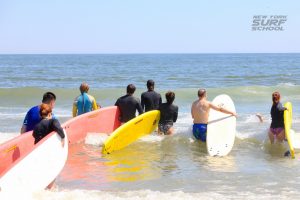 Liquid Shredders at Surf School in NYC.
The Best Surfboards For Beginners
Every day, 24 hours a day, 365 days a year LS riders, just like you, are headed out to Surf or SUP.   LS Boards are in the water 24/7 across the globe.  Since 1999 Liquid Shredder has provided the best surfboards for you to learn how to surf.  In 2006 we began production of our user-friendly line of SUP Stand up Paddleboards.  The LS SUPs became the benchmark of quality for beginners and rental SUPs. Our Liquid Shredders are the favorites of Surf and SUP trainers worldwide. They're in the water from Chile in South America and North up to Canada.  Liquid Shredders are the favorite boards for beginning surfers around the globe, California, Hawaii, Australia, Indonesia, Japan, China, Russia the EU the back to Maine, and across the USA.  Click Here for Beginner Surfboard Models!
If you're going to learn to surf or SUP, Liquid Shredder is here for you.  Easy to ride and high quality are our board sports goals. Join the Liquid Shredder Revolution!