Soft Surfboards ®
The best entry-level and surf camp surfing boards are Soft Foam Deck Surfboards.  Durable, safer and lower cost than traditional fiberglass surfboards, they have become the best surfboards for beginners.  The outer shell of Soft Surfboards vary but all are not hard fiberglass or epoxy.  Soft Foam Surfboards can have one of two different outer deck layers,  traditional foam or Patented vinyl.
No longer just a "Kook" surfboard, Softie Surfboards have become popular at the most recognized surf spots around the globe.   Places like Waimea Bay, Chicama, Hatteras on the OBX, Cabo to name a few.  Low price and nearly indestructible, they're being put to use by both beginners and pros alike. Professional surfers are doing airs, floaters, and board transfers on Soft Surfboards. At the same time, they're the preferred wave riding vehicle for surf schools from Peru to Orange County.
Soft Top Surfboards are crazy popular because they're fun, durable, and cost-effective.  The exploding popularity of these safe beginner Surfboards is easy to understand.  No board is an easier surfboard to ride than a big, foam, eight-or nine-foot soft boards longboard.  Much easier and safer than any fiberglass or epoxy hard shell board. Softy surfboards are very buoyant, easy to paddle through.  They are also quick and easy boards to catch waves. So if you surf the shore whitewater or the big crashers on the outside, you cannot beat the stability of Softboards.  Surfing board beginners can't beat learning to stand up on Liquid Shredder Soft Top Surfboards.
The pros exceed the cons of Soft Surfing Boards.  They are generally much safer for the beginner surfer. With their round, soft edge rails and more flex fins, it's harder for somebody that's just beginning to learn surfing to hurt themselves if they're riding a soft surfing board. The soft-top surfboards are also extremely durable. Softboards are difficult to ding, unlike traditional fiberglass surfboards.  So repairs of Foam Deck Surfboards are few and far between plus, soft top surfboards are generally much more affordable than hard epoxy fiberglass surfboards.
Soft top surfboards at Surfing School:  CLICK to Check Out the VIDEO
Softboards are beginner boards for kids and adults.  The Original Liquid Shredder beginner surfboards are designed and made by surfers for surfers to exacting standards. Our EZ-Slider beginner surfboards include a Slick, superfast bottom and "Hyper Laminate" dual hardwood stringers for stiffness. The longer surfboards, 8ft and 9ft have a 3rd Fiberglass stringer which adds more strength. The Soft Foam EPE Deck with EPS core and PP hard slick bottom are tough yet safer than epoxy or fiberglass surfboards. Our beginner surfboards materials are heat laminated into a beginner soft board which is durable and cost-effective. The white PP (polypropylene) slick bottom gives all beginner surfboards by EZ-Slider rigidity and strength.  Now with FREE USA 48 State Shipping   Plus an Additional Discount Offer at Checkout! 
Surf Instructors Use Liquid Shredder, So Should You!
Since 1999 Liquid Shredder has developed and perfected Soft Surfboards with beginner surfer success as our Prime Directive.  Across the globe, surf instructors use Liquid Shredder beginner surfboards like the EZ-Slider Series to ensure the success of their students.  Having developed the original LS surfing boards for our kids we have a unique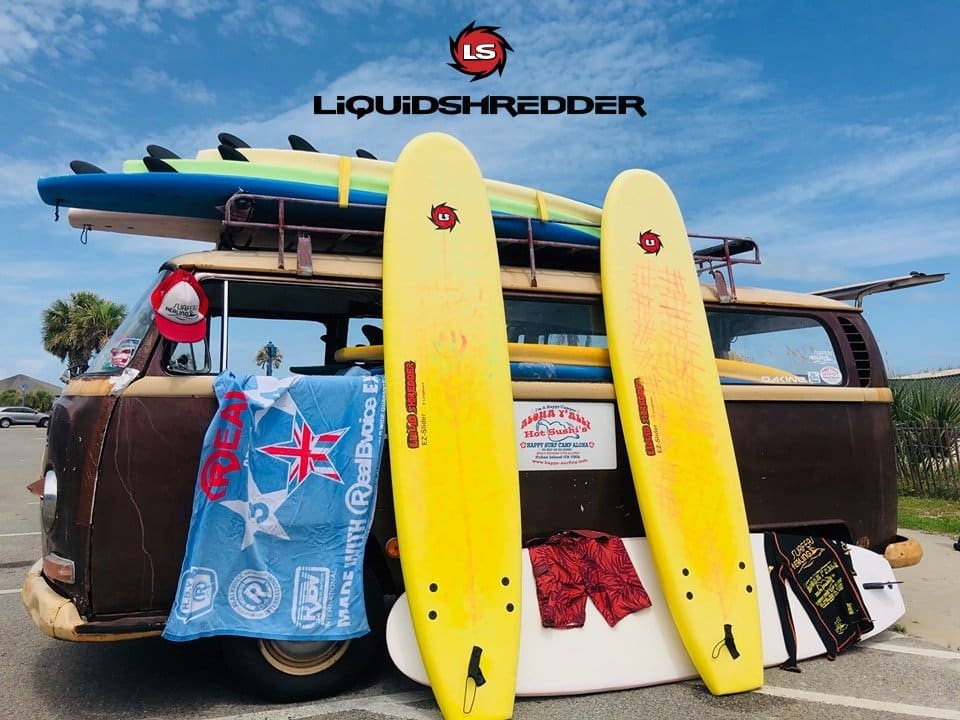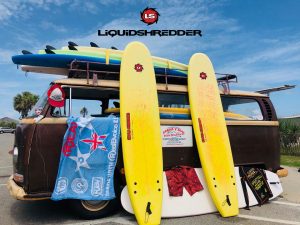 understanding of the struggle to become a proficient wave rider.  Our vision at Liquid Shredder is to make the surfer's learning process as safe and as easy as possible.  We strive to provide not simply the best entry-level beginner soft top surfboards but also informational content to assist beginners in first soft surfboard selection.
Safe and Soft Surfboards
Liquid Shredder soft surfboards are forgiving.  The foam deck of models like the EZ Slider series is much less likely to injure a surfing beginner if it bumps into them.  Unlike the sharp-edged, hard fins of most surfboards, the EZ-Slider fins are flexible and less likely to cut a rider.  Additionally, they are designed to be blunted with a quick rub of sandpaper on the leading edge.
Soft Top Surfboard Durability
Unlike ding prone fiberglass surfboards Liquid Shredder beginner soft tops can take a punch.  The materials used in our soft top surfboard design and manufacturing are easier and more cost-effective to repair than fiberglass epoxy surfing boards.  Rapid, low-cost repairs can be made by the user in most cases.  You won't have to drive your board to a ding repair person, drop it off, wait weeks, and pay a high price repair bill with Liquid Shredder soft top surfing boards!
Liquid Shredder Provides Discount Fleet Pricing to qualifying surf instructors and surf camps.  If your surfing school is not using Liquid Shredder Soft Surfboards you may find advantages in making the change.
You can find information on choosing the correct surfboard size here!
Click to learn more about Liquid Shredder
Get on board and Join the Liquid Shredder Revolution.
We Make Liquid Fun!
Beginner Surfboards
Foamie Surfboards for kids, pro surfers and adults
Manufacturer:
Soft top Surfboards
Model:
Liquid Shredder Surfboards
Learn More about Surfing, Liquid Shredder and General Surfboard Info