Ways To Get Kids Involved In Surfing
Are you a fan of wave surfing and are looking for ways to get your kids into the sport? While kids are different, surfing is safe from the age of seven or eight. Wondering how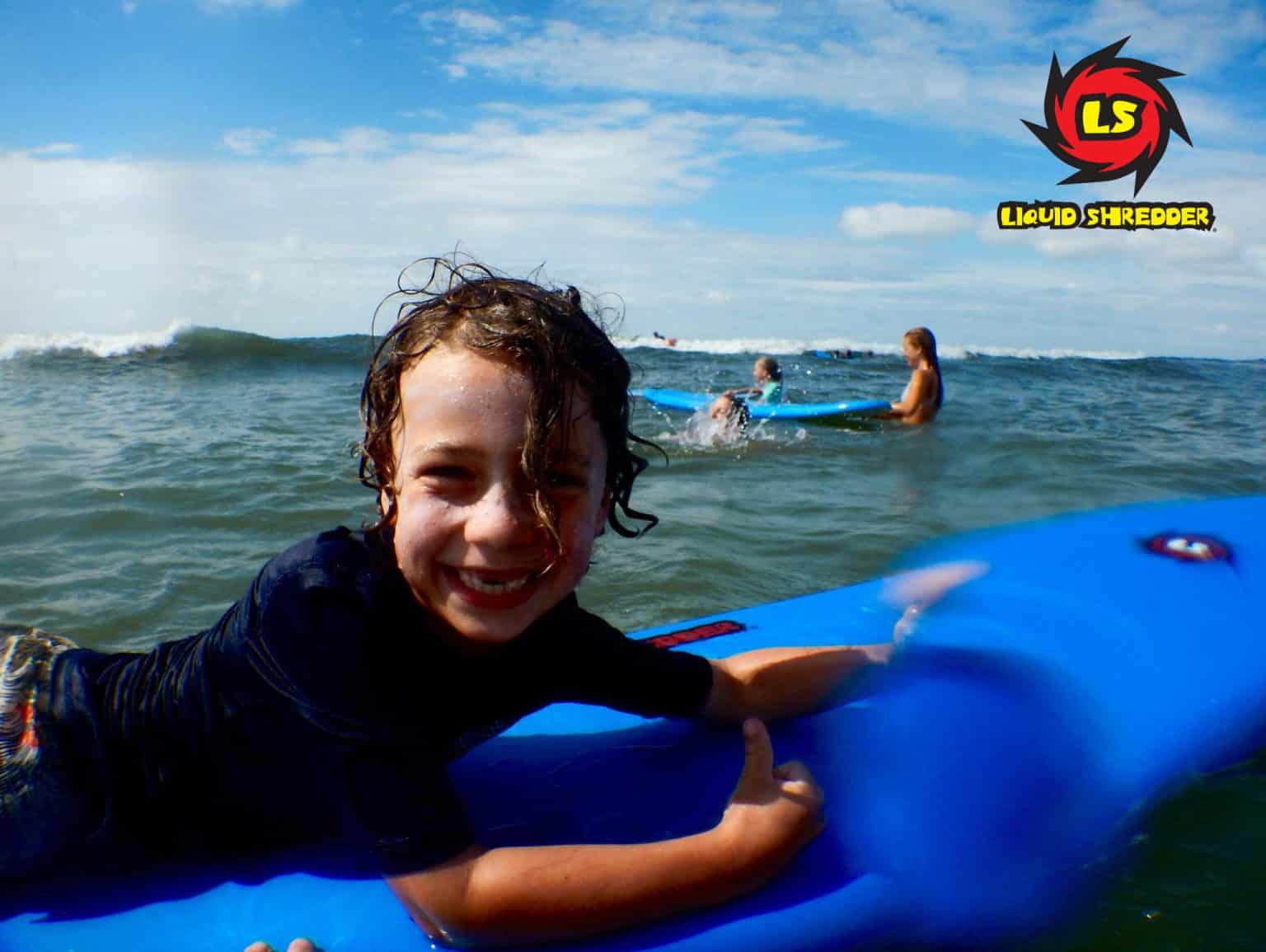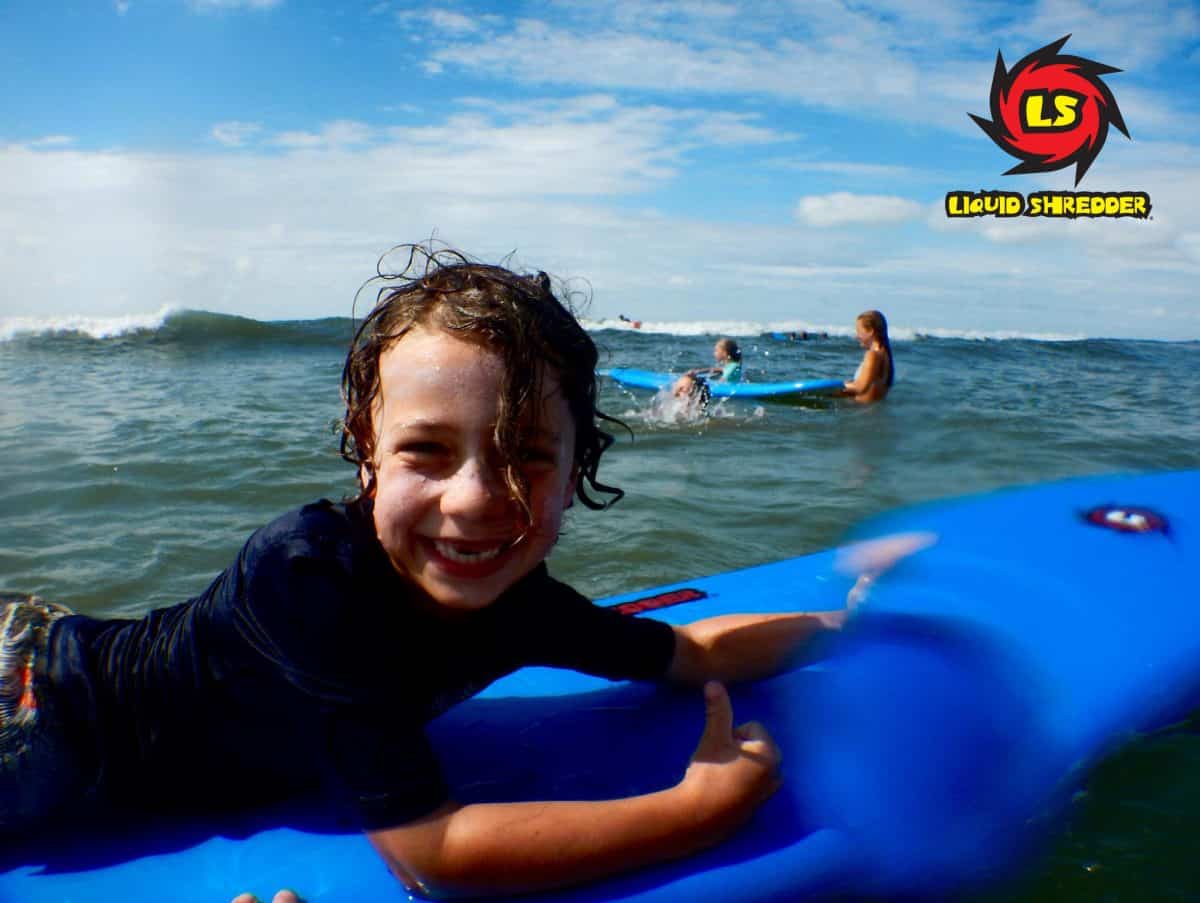 to go about finding Ways To Get Kids Involved In Surfing? Show them this Video!
Here are some practical tips to get your kids up, out of the house, on the ocean, and totally in awe of the sea!
7 Ways To Get Your Kids Involved In Surfing – Parents Guide To Safe Boarding.
Do Not Be Pushy
The most important factor is to have the kid interested in the sport rather than have you pushing it on them. Forcing it on them might make them lose interest, meaning they might not pay attention to any training.
When they are interested in surfing, they will have the necessary intrigue to learn, even at a faster pace.
Introduce Them To Land And Water
It is important to introduce them to both the water and land environment and capture their interest. You can play games along the shorelines, and other exciting activities, like swimming that get them interested in exploring the water.
For younger kids feel free to get them used to the water with different baby pool floats and inflatables. For example, an Inflatable water slide on the beach will get even timid adventures in the mood and is always a smart idea.  Bodyboarding is another great small step toward stand-up surfing.
Give them time to get used to the water temperatures, the crowds, the waves, and the sand. They will learn to be comfortable.
With just these simple steps, your kid will have the first lesson in surfing.
Take Them To Surfing Environments
It is also essential that you accompany your kids to major surfing destinations to show you support their hobby. It will also allow them to see how the other surfers go about it and manage to enjoy the activity. Such an environment is still an excellent place for them to meet with professional surfers and coaches.
With all the action taking place in front of their eyes, the tricks and maneuvers, how surfers perform on waves, your kid will develop a deeper interest in the activity. When planning holidays, vacations, or even getaways, you can schedule them in areas with water bodies and many surfing activities.
It would be best if you also considered getting them the online video of kids surfing.  Interesting visual tools drive young imaginations and Surf Videos are the best. Check out this full one of soft, friendly kids surfboards
Include Other Loved Ones
Kids love doing things in the company of other kids. If it is possible to get their friends, siblings, or relatives in this activity, your kid is much likely to be more involved in surfing. It will also make their progress faster.
Having the company of other familiar kids might ease anxiety if they are terrified of surfing. Such early bonds play a significant role later if they learn to surf together.
Get The Right Equipment
Surfing requires various equipment such as longboards, leash, surfboard wax, and most importantly, a suitable wetsuit. While you are starting to introduce them to the whole surfing idea, you can start to buy these items and avoid making a large purchase at a go.
It would be best if you also let the kids help pick a kids surfboard on their own. It will show them that they have a say in the activity, and also allow them to choose what they feel they are comfortable with.
Being knowledgeable about the right equipment will ensure your child is safe and comfortable as they get into surfing. For instance, a suitable wetsuit will keep your kid warm in the cold waters.
Kids get colder than adults, so it is important to keep them warm.
Enroll Them In a Surf School
Surfing lessons from professionals is one of the safest ways for the kid to learn surfing. You might have the basic knowledge of surfing, but a professional can train them better on what to do if they are in danger.
Keep It Fun
There is no better way to learn something, especially for kids, than when it spells out fun. Ensure the whole process is fun and gets them excited whenever it is time to train.
Getting your kid to try surfing at an early age is key. But as you try to push them into perfecting their surfing skills, it is important to keep it all fun. The above 7 ways to get your kids involved in surfing are your best parent guide to safe boarding.8
     8. Find a Beginner Friendly Beach to Surf
It is best to find a small wave beach for your kids to learn to surf.  Smaller waves and fewer big people surfing make your child surfer more comfortable.  You want your beginner surfer to have a happy surfing day with their peers. Here's a list of some of the many beginner surfers-friendly beaches.  Call a surf shop near you or near your destination if you need more detailed beginner surfing beach location information.
West Coast  Beginner Surf Beaches
Pacifica State Beach, near San Francisco, California. Best beginner surfing at the South End.
Cowell Beach, near Santa Cruz, California. With surf lessons available.
Trinidad State Beach in Northern California near Arcata and a great spot for kids to learn to surf
Pleasure Point Beach, also near Santa Cruz Cali. Excellent beginner surfer's beach
San Onofre State Beach, in North San Diego with great rolling waves that are perfect for the novice surfer
San Elijo State Beach around Cardiff and Encinitas California kids surfers will have a blast
Tourmaline Surf Park in San Diego California perfect for a child learning to surf
Zuma Beach at the North end of Malibu California.  Malibu, Surfing, and kids, what more can be said.
First Point at Surfrider Beach also near Malibu Beach California. Beach Party territory in sunny SoCal for kid surfers
East Coast Beginner Surfing Beaches
Folly Beach near Charleston SC aka "The Edge of America". Gentle waves and numerous surf schools for beginners
Tybee Island Georgia near Savannah is a perfect small wave beach for kids to learn to surf
Atlantic Beach and Jacksonville Beach Near Jacksonville Florida. Surf shops nearby. Plenty of surf schools and surfboard rentals for kids and adults
Cocoa Beach Florida lots of surf instructions available for children
South Beach in Miami Beach Florida, very small waves for the beginning young surfer
Long Beach NY near New York City and many surf schools for beginners and kids. The home of Skudin Surf Camps
Rockaway Beach NY also near New York City. Easy access from NYC to a great beginner surfing beach with lots of surf schools
Montauk New York at the end of Long Island New York
Robert Moses State Park beach in NY
Breezy Point at the near end of Long Island New York
Coast Guard Beach in MA Cape Cod is great surf for beginners
Long Beach Island New Jersey, a number of named beaches, lots of Surf Camps
Sea Isle Beach New Jersey with small beach town flavor and great surfing conditions for beginners and kids
Author BIO
Mo Mulla is a work-from-home dad who enjoys reading and listening to music. He loves being a dad and husband to a growing family. He loves writing about his passions and hopes to change the world, 1 blog post at a time! You can find his parenting blog here: www.ParentalQuestions.com