Black Ball Beater Surfboards
Black Ball Beater Boards LS EZ-Slider and the patented Ghost Hybrid Soft Surfboards. Mini Simmons surfboards Tribute Hybrid  Shape. Removable Twin-Fin fin system. You can even go finless surfing
Finless Beater Boards
You can also go finless surf on a finless beater board with Liquid Shredder.  Simply remove the fins and screws and open your world to finless surfing and wave sliding. Every Blackball Beater surfboard made by Soft Surfboards is designed with fin seals to prevent water intrusion into the internal foam surfboard blank. No expensive accessories are required to Go Finless on Liquid Shredder foam surfboards. Safety Foot Leash sold separately.
Best Beater Boards
The best Blackball Beater Surfboards are also great beginner surfboards for kids, beginners and even lightweight professional surfers. Did you know beater surfboards can beat the blackball flag?  Classic mini simmons surfboards reborn for the 21st Century. Not only are beater soft surfboards high-performance fun.  They can be ridden in some surfing restricted zones.  Check with your local lifeguard or authorities to confirm.
Beater Surfboards for Sale
Black Ball Beater boards sizes and their expanded width and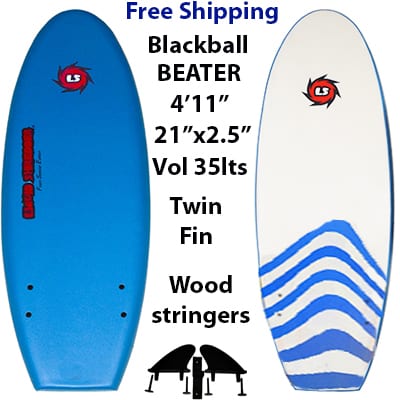 increase flotational volume make them perfect rad experienced surfer, beginners, and for kids.  Many more shapes, styles, and sizes of the beater soft top surfboards are now seen on beaches, behind wake surf boats, and standing waves on river rapids worldwide.  Liquid Shredder uses stronger and lighter materials that make beater soft boards all the rage with beginners and even professional surfers.   You can use these surfboards finless, like a bodyboard, but they are still large and floaty enough to be real rippers as standup surfboards.   Factually, black ball defeating surfboards have made the transition to a fully accepted standup surfing board, ever ridden by professional surfers.  Also, beaterboards are a great surfboard for small kids who are just learning to surf and ride the waves.  These surfing boards are wide and stable most have a twin fin setup that allows the surfboard to turn easily.  Often, a newbie young surfer will grab a blunt-nosed wide beater style surfboard and learn to surf in almost no time at all.
A Liquid Shredder Black Ball Surfboard a must-have surfing board board to your quiver for a number of reasons: They are inexpensive. A Black Ball beaterboard allows you to ride smaller mushy waves Clearly, they are a blast in the shoe=re pound (shore-breaks) beat them around and pound them. You need not worry about quality or snapping that expensive fiberglass epoxy surfboard.
Soft Surfboards made of foam are hard to delaminate, snap or to waterlog. These are possibly the greatest beginner surfboards.
And, as an added feature they can often be ridden on beaches where surfing is restricted.