Inca Series Surfboards Bamboo Epoxy Fiberglass EPS
Inca Series Surfboards Bamboo Epoxy Fiberglass EPS are sustainable Bamboo. The designs and shapes of the Inca Series Surfboards are the sum total of the 100+ years of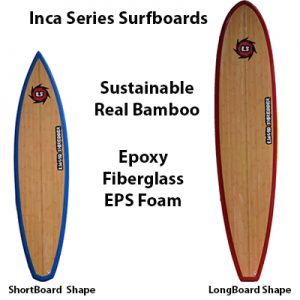 surfboard design and experience by the Liquid Shredder Design Team. Inca Series epoxy fiberglass surfboards are traditional "fiberglass surfboard" construction with Liquid Shredder shaping, engineering and quality. Inca series fiberglass surfboards are designed with exquisite, sustainable Bamboo Veneers.  Our technical team spends countless hours testing, developing, and refining our Bamboo fiberglass epoxy surfboards. These surfboards are a true work of art and they are state of the art.
EPS foam core is 26kg/m3 with real bamboo deck and bottom sandwiched between 2 layers of 6oz fiberglass with low VOC epoxy resin.  Rails, nose and tail are reinforced.  Finally, a full length solid wood stringer adds to strength.
Inca Epoxy Bamboo surfboards are covered by 90 Day Consumer Use Warranty.
Choose Below then pick your Size & Rail Color
Sizes from 5ft 6in through 6ft 6in are ShortBoard shapes with a pointed nose.
Sizes from 7ft 6in through 9ft 6in are LongBoard shapes with a wide blunted nose.
Fiberglass Epoxy Bamboo surfboards
Free shipping best epoxy fiberglass bamboo surfboards high rated in reviews since 1999
Manufacturer:
Soft Surfboards
Model:
Epoxy EPS Fiberglass bamboo surfboards
Product ID:
Best surfboards
Epoxy Fiberglass Bamboo surfboards The Inca Series by Liquid Shredder