How to Select Beginner Surfboards. End the confusion! 
The right choice will determine how much you will enjoy Surf Life. Since most surfers tend to remember their first surfboard more than any other, it is important you are cautious when purchasing your first "surf stick". Unlike pro surfboards, beginner's surfboards have very special features that allow new surfers to acquaint themselves with riding the waves.
Don't be tempted to buy a cool short surfboard, it is useless if you cannot surf it. When buying a surfboard, it is important to choose the one that matches your abilities and surfing conditions. To avoid making mistakes, consider the following elements when first learning How to How to Select Beginner SurfBoards.
The Super Easy Way to Choose Online
Rider Weight:  Liquid Shredder provides a "Maximum Suggested Weight" for beginner/novice riders on each surfboard product page.  We intentionally set this weight to help ensure the success of almost any first-time rider.  Of course, as with most watersports activity, strong swimming skills, reasonable strength and balance are a prerequisite.
Soft Surfboards: These boards are less likely to hurt a rider as they are made of forgiving materials similar to the padded dashboard of a car.  If hit or bumped by the surfboard it is less likely to injure the rider or require a costly surfboard repair.  Liquid Shredder offers the widest range of Soft Surfboards anywhere.  It is best to stay away from Epoxy Fiberglass hard surfboards.   Check out LS  Cost Effective EZ-Slider Soft Softboards and our Patented Peruvian Soft Surfboards.   FREE SHIPPING to USA 48 States.
You can make an excellent choice using the weight information listed on the product information of each board on the Liquid Shredder Website.
It cannot be repeated enough, don't buy a board that is too small.  Stick with the suggested beginner weight recommendations.
You can find additional information on the types and of kids and beginner surfboards at one of the best resources for beginner surfboards…   Liquid Shredder Soft Surfboards   Each Liquid Shredder has a Suggested Novice Rider Weight and they SHIP FREE.   This helps to make your board size choice easier.
Surfboard Brand and Warranty
Be Certain any Beginner Surfboard you Purchase has a defined Written Warranty.  If you can't find warranty details you should not purchase the surfboard.  Liquid Shredder provided the first written warranty on boards in the market over 20 years ago.  Brand Strength.  Before you buy, research your supplier and select your Board maker carefully. The longevity of a company and product depth are key to long term support.  The availability of repair and replacement is contingent on the continual existence of a brand and support of your valuable Paddleboard asset.  Primary indicators of longevity are years in business and depth of product.  Liquid Shredder was founded over 20 years.  The LS brand encompasses not only Surfboards.   LS is committed to the entire Board Sports sector. Liquid Shredder designs and manufactures, not just Surfboards.  We make paddle boards, bodyboards, skimboards and a full line of water rescue equipment.  Liquid Shredder production includes multiple materials and Patented construction techniques,  We have depth.
Volume
It is important when you want to learn How to Select Beginner SurfBoards to consider the volume of a surfboard. Volume determines how well it is going to float you. As a beginner, you need to make sure your surfboard has plenty of volume. The greater the volume, the easier it is for you to stand and catch the waves. Volume is usually measured in liters and as a beginner, you need to ensure your surfboard has enough volume to be a stable flotational platform. Such a board will help you surf in any kind of water including catching unbroken green waves and white water surfing.
Size
Rider weight is the primary consideration and height is a minor factor in determining how much volume and length you will need for your surfboard. As a beginner, you need a longer and thicker surfboard since it offers extra floatation and stability. However, your height and weight will highly determine the volume of surfboard you should go for. For instance, if you are tall and heavier, you will need a slightly bigger board than a short and light surfer. The follow the information on the Liquid Shredder site and it will guide you when purchasing your first surfboard.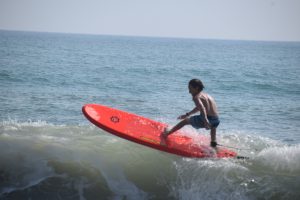 EZ Slider Liquid Shredder 7ft Soft Surfboard
Fitness Level
Your level of fitness matters a lot when choosing your surfing board even at advanced levels. If you are not particularly fit, consider choosing a high volume surfing board to help maximize the number of waves you catch. A high volume board also helps lengthen the surfing sessions, even is small, less powerful surf conditions.
Surfboard Construction
Although not as crucial as volume and size, each surfboard construction material offers certain characteristics that determine your surfing experience. When considering this feature, you can choose from the following material:
Softboards

– these are the most suitable for beginners since they are affordable and safer. They have soft and rounded fins which minimize chances of cutting yourself when surfing.
Poly/Fiberglass– this is the most common type of surfboard. It has the advantages that it's easy to repair should it break in the future. Most people prefer it due to its traditional gloss and matt finish.
Epoxy/Fiberglass– generally, boards made from this material are lighter and durable enough to overcome everyday dents. Their lightweight nature makes them suitable for kids and women.
Check Out Some Beginner Surfboards, FREE SHIPPING!